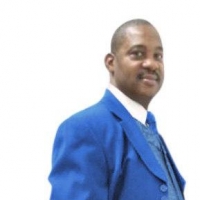 St. Titus One Power Word - May, 2019
By St. Titus One | May 6, 2019
St. Titus One Power Word
May, 2019


"Yo Mama"
"Yo Mama", these were fighting words in my youth. If someone said that to me, it was a declaration of an invitation to battle. "Yo Mama" what? It really didn't matter what nor if anything came behind that. We received the phase "Yo Mama" as an affront on the very thread of our family and to us all it stood for and on.
I don't know how or when that phase became such a volatile signal for violence. Maybe we should take a look at what we may have felt was actually being attacked.

"Yo Mama"
Whether you referred to your maternal parent as Mother, Madea, O. G., Mom, or Mama, it was vital to your upbringing and a title of respect for that person so dear to you. As we examine that position we discover it to originally given to the one from whom we were birthed. Sometime conferred upon another whom we later felt carried out the expected duties of the role in our lives.

"Yo Mama"
Since creation, she has been the person that was responsible for nurturing us through our formative years (birth – 12). The best mother is a Christian mother who is patient, kind, is not jealous, does not brag, and is not arrogant. She does not seek her own comfort at the expense of her children. She is not provoked by spilled milk or the scribble of crayons on the wall. She quickly forgets their crying, their dirty diapers, and their constant needs. The best mothers are those Christian women who pour out their lives for their children and who with incredible patience give of themselves as a pointer of children to the Lord Jesus.
So, motherhood is not merely a biological function. It is an attitude of love, sacrifice, and nurturing that so naturally manifests in the feminine gender.
"Yo Mama"
Proverbs 29:15 says; The rod and reproof give wisdom, but a child left to himself brings shame to his mother. Proverbs 22:6 says; Train up a child in the way he should go; even when he is old he will not depart from it. Also, 31:26,27 She opens her mouth with wisdom, and the teaching of kindness is on her tongue
. She looks well to the ways of her household and does not eat the bread of idleness. You see children begin as a product of their mother's teaching.
"Yo Mama"
What we see played out in our society is the evidence of what they saw from their mother's teaching. Yes the father has to bear some responsibility since the child looks to him as their future. Woe to the children for whom there is no example for their future is present. So what the child saw is what society will get. We can and must change those dynamics by bringing the children to Church and participating in their growth in the Lord. Return again to "God" and his Church this Sunday and be renewed to the cause of Christ in your life and that of the children in order to help make the future better. You will honor your Mother this month and always by the way you live your life!
*******************************************************************************************************************
St. Titus One M. B. Church 12257 S. Emerald Avenue Chicago, IL 60628
773-785-5530
www.sttitusone.com
Sunday School: 9 a.m. Sunday Morning Worship: 11 a.m. Evening Service: 6:30 p.m.
Mid-Week Bible Study: Wed. – 6:30 p.m.; Sat. – 1:00 p.m.
This message was brought to you by Rev. Michael A. Jones, I., Pastor, St. Titus One M. B. Church. If you were blessed by this message, please pass it on. And if you're not a member of any church, we invite you to join us for our services as specified above. We will be blessed by your presence as we love visitors and new members. To be added to our email list, please email us at
sttitusone@sbcglobal.net
Back