St. Titus One Youth Anti-Violence and Mentoring Program
WINNER OF THE 2017 HEROES IN THE HOOD
"STOP THE VIOLENCE AWARD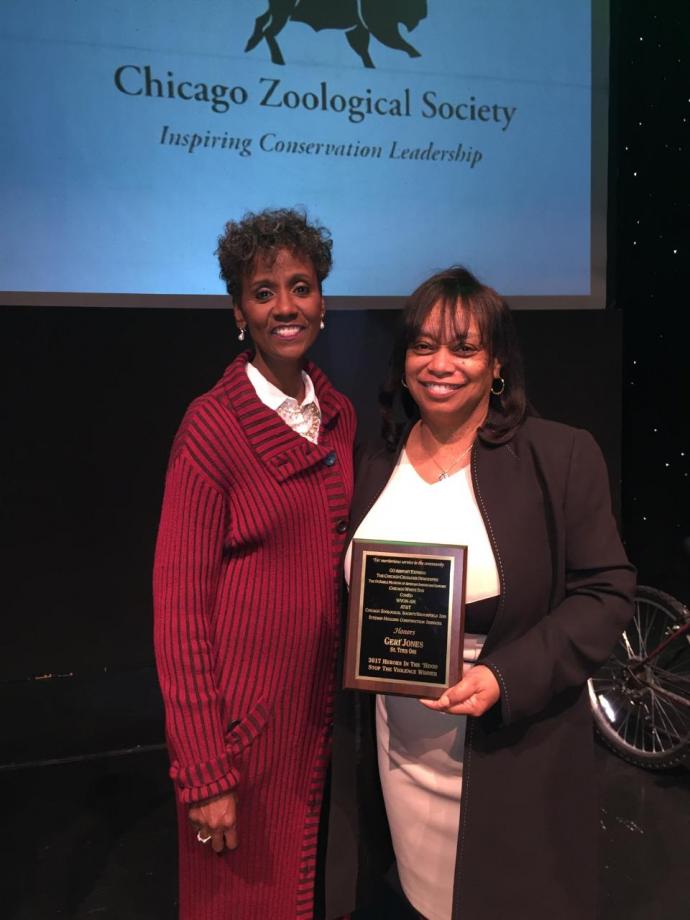 Geri Jones, pictured right, poses with Dorothy Tucker, CBS Chicago News Reporter, who served as the Emcee of the
Awards Program held at the DuSable Museum of African-American History on May 22, 2017

The
St. Titus One Youth Anti-Violence and Mentoring Program
was designed to provide youth in the community with a positive outlet and great skills to overcome the daily challenges they face.
Each week after school, youth meet on Tuesdays and Thursdays from 5:30 - 8 p.m. and receive homework assistance and tutoring to help them excel in school.
The Youth also participate in group sessions to learn how to cope with peer pressure, bullying, anger management and they also learn proper personal hygiene techniques, self respect and respect of others, the importance of a good education and job readiness skills.
One of the goals of the program is to take the youth on field trips so they can experience cultural enhancement and participate in positive activities outside the community. This includes but is not limited to trips to Navy Pier, Museums, Zoos, Restaurants, Art galleries, etc.
Another goal is to allow the youth to express themselves creatively utilizing the arts including music, dance, rap, drawings and paintings, skits, poetry and spoken word.
Our youth participate in youth nights on select evenings where they are able to have fun in a safe environment. Youth nights include puzzles, board games, basketball, legos, play dough, and wonderful interactive games like musical chairs, Simon says, and more. They also make jewelry, personalized door knockers and more. Periodically, we also participate in basketball games at a local gym as this is a very positive outlet for young men and women in the community.
The St. Titus One Youth Anti-Violence and Mentoring Program is seeking funding from Corporate sponsors and Individual donors. For additional information, contact Geri Jones, 773.343.7863 or
sttitusone1stlady@sbcglobal.net
Check out this video
https://youtu.be/30C1-iOsHDI
*********************************************************************************************************************************************
Follow us on
Facebook: St.Titus One Youth anti-Violence & Mentoring Program
Twitter: @sttitusoneyouthanti-violenceprogram
******************************************************************************************************************************************************