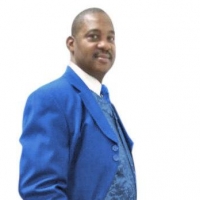 St. Titus One Power Word - March, 2019
By St. Titus One | March 7, 2019
St. Titus One Power Word
March, 2019


"Trust?"
Webster Dictionary defines "Trust" in the Noun: "firm belief in the reliability, truth, ability, or strength of someone or something". In the Verb sense it is defined as; "believe in the reliability, truth, ability, or strength of". KJV Dictionary Definition: TRUST, n. 1. Confidence; a reliance or resting of the mind on the integrity, veracity, justice, friendship or other sound principle of another person. "He that putteth his trust in the Lord shall be safe". Prov.29. 2. He or that which is the ground of confidence.

"Trust?"
Our world is in a constant state of turmoil which each of us believes can be blamed on one thing/person or another. Whether that would be right would also depend on the perspective of the claimant. I on the other hand hold a firm grip on the orchestrator of it all being God.

"Trust?"
I have been allowed by our God to be a part of this world for at least three score years and have been privileged with a plethora of issues whether socially, spiritually or physically. I believe that I have had an overabundance of situations both highs and lows, many of which I personally contributed to.

"Trust?"
As I take the opportunity to glance back over the things I've traversed in this life, I can't help but to recognize my inability to have done it myself of myself. I come to understand that all of my steps were ordered by my creator and that every one of my issues was exclusively custom designed just for me. Romans 8:28 "And we know that all things work together for good to them that love God, to them who are the called according to his purpose".
"Trust?"
I rest in the biblically recorded fact that God says; Jeremiah 29:11-13 (KJV)
11
For I know the thoughts that I think toward you, saith the Lord, thoughts of peace, and not of evil, to give you an expected end. 12 Then shall ye call upon me, and ye shall go and pray unto me, and I will hearken unto you. 13 And ye shall seek me, and find me, when ye shall search for me with all your heart.
"Trust?"
Our
God
is an awesome wonder and speaks to his people regularly
,
so surround yourself with others who believe
God
too and listen for that special voice. It comes through your
Bible studying
and through your
Pastor
, just be still and you will hear it. Come back to Church and seek
God's
face
, I'll see you at service Sunday.
*******************************************************************************************************************
St. Titus One M. B. Church 12257 S. Emerald Avenue Chicago, IL 60628
773-785-5530
www.sttitusone.com
Sunday School: 9 a.m. Sunday Morning Worship: 11 a.m. Evening Service: 6:30 p.m.
Mid-Week Bible Study: Wed. – 6:30 p.m.; Sat. – 1:00 p.m.
This message was brought to you by Rev. Michael A. Jones, I., Pastor, St. Titus One M. B. Church. If you were blessed by this message, please pass it on. And if you're not a member of any church, we invite you to join us for our services as specified above. We will be blessed by your presence as we love visitors and new members. To be added to our email list, please email us at
sttitusone@sbcglobal.net
Back