St. Titus One Youth Anti-Violence Program FREE Summer Day Camp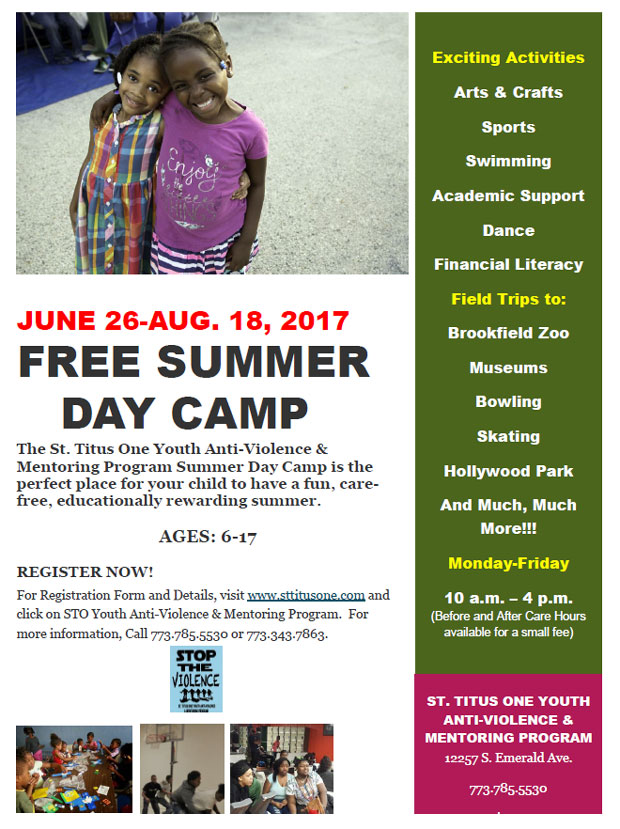 Click Here to Download Day Camp Registration Form
Summer is the most volatile season for crime in Chicago. Statistics show that crime increases significantly, especially gun violence, during the summer months.

At. St. Titus One, our goal is to keep our youth safe, and provide them with positive, educationally enriching, fun activities to keep them engaged this summer.
OUR GOAL IS TO HOST A FREE SUMMER DAY CAMP FOR 100 YOUTH!
During our camp, youth will be exposed to the awesome gifts of the arts, sports, financial literacy, mentoring and exercise for their body and mind. In addition, Our youth will participate in group sessions addressing topics such as anger management, conflict resolution, self-esteem, and respect for others. A heavy emphasis is placed on the importance of staying in school and getting a good education.

Participants in our program participate in social activities including arts & crafts, board games, jump rope, puzzles, basketball, volleyball and more.

Youth in our program go on field trips to become culturally enriched and recognize that an exciting world awaits them outside of the community. Through our Summer Day Camp, we plan to expand the field trips to include travel outside of Chicago, as many of our youth have never had the joy of this experience.


DONATE, DONATE, DONATE
With your help, we will have the Best Summer Day Camp Ever! To give , please go to our website at www.sttitusone.com and click on On-Line Giving (Indicate Free Summer Day Camp). OR If you prefer to send a check or money order, your tax deductible donation can be mailed to St. Titus One M. B. Church, 12257 S. Emerald Avenue, Chicago, IL 60628 Indicate (Free Summer Day Camp) in memo line.


Thank you in Advance for Your Donation. We know that there is a Hero in You!